Shopping
&

Style
Meet The Owner: Rebecca Bullene of Greenery NYC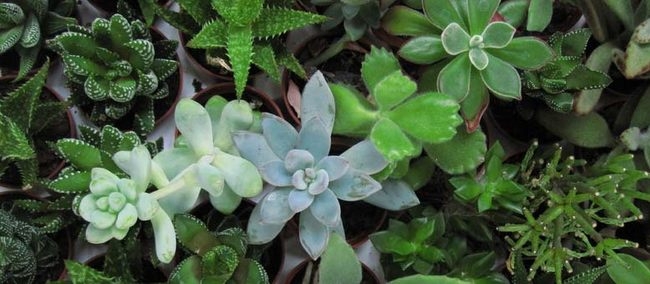 (Photo: Greenery NYC)
About five years ago, Rebecca Bullene realized she had had enough of the daily grind at one of NYC's biggest publishing companies and decided, like most New Yorkers, to take action. She slowly started learning about and practicing different types of gardening, horticulture and design. Her first projects were building terrariums and planting herbs on rooftops, but now, business is booming, and this Brooklyn-based green-thumb has her own floral studio space, designs garden makeovers and even does occasional garden-based art installations and floral accompaniments for events.

OWNER: Rebecca Bullene
Company: Greenery NYC
http://www.greeneryNYC.com/

I met Rebecca at her floral studio during Bushwick Open Studios where she graciously agreed to spare some time for a quick chat about all things green(ery NYC).

What did you study in school?
I studied English in school, and I thought I wanted to be a book editor. That was kind of a dream I had for a long time, I wanted to find someone who would pay me to read. I moved to NYC after going to school at Florida State and I enrolled in NYU's Summer Publishing Course to make connections, do some wheeling and dealing and I got a job at Random House. I ended up working there for seven years.

When did you start to question your decision of going into publishing?
[Publishing] was a lot fun, but I just started to get really unhappy and had to do some assessing, like, why am I so unhappy? This is my dream; I always wanted to be an editor, live in NYC, have an office, and have a great apartment and clothes—be Sex in the City—and then I had it all and I was so sad, just really miserable. I had to just realize that it was the wrong dream. So I quit my job, and I travelled for six months, went to Central America and worked on a tropical fruit farm, and just did some thinking. Like, what are my passions in life and what can I really think about doing, what do I want to spend my time doing? And I just kept coming back to plants—that's really just what I love; I'm really interested in it, it's what I enjoy reading [about] and doing, gardening.
When I came back to NY, I kinda knew I wanted to be doing that, but I couldn't figure out: how does one make a living in the most metropolitan of places in the United States doing gardening stuff. So I started thinking, where can I go, what can I do? And, as fate would have it, I got really lucky and the BBG was hiring an editor.

Wow, that was really lucky!
Yeah, it was a marriage of two things, like, I have all this editing experience and huge wealth of plant knowledge and love. So, I worked there for two years, editing all of their guidebooks, building their website doing botanic photography, and just working out on the grounds—building my knowledge of what works in an urban environment, soil conditions, soil treatments, and pest management. It was like getting paid to go to the most amazing school.
And just being out on the grounds everyday—I'd always been helping friends and friends of friends, but I'd be out on the grounds—and people would be like, "Oh, can you come stop by my house and tell me what would do well in that space?" And I kind of woke up one morning and I was like, "Wow! I actually have a lot of clients and knowledge and doing what I love, which is going out into people's spaces and helping them create something that they can use and enjoy and love. Just, like, using the outdoor space that they have. And then the terrariums and flora are just an extension of that. Building terrariums is super-trendy right now. I would go to places and see terrariums that were just like plants and sand, and I was like, that's really sad, someone's going to spend $200 on something and it's going to die in two months. [I thought] I can do better! I can build something that is going to live for 30 years!

With the gardening, did you start with any specific types, like flowers or herbs?
Definitely where my passion kind of started was through my personal interest in growing my own food, figuring out how to do that in an urban environment and containers. It was sort of like, "Oh, okay, I live in a hugely polluted city, but I still want to have like fresh veggie greens," and all that kinda stuff—and just figuring it out. It really was that kind of trial and error. What kind of varieties of vegetables and herbs do well in containers? On a rooftop? In a backyard? That was just a huge learning curve that spurred out of my own desire. I was like, I want to eat my own raspberries, I want to have my own lettuce, I want to grow my own tomatoes. So, I definitely started in edibles and I still feel really passionate about growing food in this city. It's a challenge. But there's nothing better than picking a sun-hot tomato and picking your own lettuce and cucumbers and making a salad—it tastes delicious, it's really rewarding. I love it, still.

Tell me the path, starting from going to your friend's houses, to getting paid for that, to being in this space right now.
It started with friends who had backyards, and I would just kind of go there—most gardens in NY are like ivy pits, so I would go there—and be like, "Wow you guys have such an opportunity. You could be growing all of these plants. I just started giving them guidance.

So when did you start charging?
My friends started recommending me. So, I would get a call and people would be like, "So-and-so recommended you to come by and take a look at our garden". And that's when I started realizing that to do consultations I should start charging like $75 to come out to someone's house, sit down with them for an hour and tell them what's possible. It kind of started to grow from there. Friend referrals and just being at the botanic gardens was huge. I'd be out on the grounds all the time, and a perfect stranger would come over and ask, "What variety of rose is this?" and all of a sudden you start taking about roses: How do you prune them? When do you prune them? Then, "Can you come by our house?" And it's like, "Sure, 75 bucks!" And all of a sudden I realized, "Wow! You could actually make this into a real business, instead of just doing a consultation and just seeing somebody, I could put together a whole garden plan for them—I can draft them a design using auto-CAD, I can give them a whole list of plants that will do well in their space and give them a whole maintenance plan of how to take care of it.

As soon as I started putting these plans together, people would be like, "Okay! Can you come next weekend?" And I was like, "Uh. I've got to take some days off work. Let me make some calls."

It sounds like you ended up getting so busy, you had to sort of start doing Greenery NYC full-time. Or did it still feel like a leap?
It was two big transitions. One was to quit publishing. When I quit publishing, I had no job. I just knew that I was really unhappy with where I was in life. It was stupid. My family was really angry, they thought I had a great job, I lived in New York City and there were like, "What are you doing?"

You had 'made it'!
Right, I had 'made it'. I had climbed the corporate ladder. I had a corner office. I had an assistant. I had a great salary. I was respected in the industry. I had all that stuff but I was just so unhappy. That was a big step to say this is someone else's dream. It's a great job, it's a great opportunity, but it's just not for me.

So that was the big leap, and I got really lucky with the job opening up at the Botanic Gardens. And it was well suited to where my interests lie, and what I know, my knowledge base. So that was really lucky. And to move from the Botanic Gardens to this full-time was still a leap of faith, to think, "Okay, I'm going to make enough money to support myself, hire people, get a studio, get a vehicle, buy tools—do all that stuff—but kind of less so, because I had felt I already taken that huge leap from quitting with nothing. At least now I had a vision. I know I want to do this, and I know what I want, and it's what I love. Every day I get up and it doesn't feel like work, it's more like a new, exciting and challenging adventure.

Where do you see, or want to see, the evolution of Greenery NYC go in the future?
The next major step is going to be looking for a large space, kind of like a warehouse-y space we can store all of our materials. Right now, I rent all these small spaces and have to run around and collect it all, and it's crazy. So bigger space, bigger staff. I am truly trying now, trying to expand into dong more commercial spaces. I would love to just create even more beautiful places for people to enjoy.
Thanks for visiting our site. We appreciate hearing from you, so if you see or hear something exciting, send us a or leave a comment.