Sex
&

Dating
A Date in Ditmas Park
(Photo: blog.designsquish.com)
Movies, the fountain from which our notions of city romance springs, always make it seem as though Manhattan is the island for moonlit strolls and star-gazing, and Brooklyn is just a great place for mafia henchmen to dump bodies. But this is not so. The truth is that this borough's diverse neighborhoods, empty streets, and idle waterways lend it a great deal of romance that is often overlooked. To enlighten us all, Brooklyn Exposed presents a series of sample dates in neighborhoods whose amorous appeal is yet to be discovered.
Ditmas Park is often referred to as the suburbs of Brooklyn: a highly residential area with approximately zero tourist attractions, a great benefit if your greatest fear is pushing through tourists in Midtown. Few Brooklynites see any reason to visit Ditmas Park unless they know a resident, but the charming neighborhood is full of unexpected romantic prospect. And for those who are used to the bustling Eastern Parkway or hipster Bedford Avenue, the Ditmas Park neighborhood provides a quiet, quixotic alternative that can feel like a mini vacation to the 'burbs.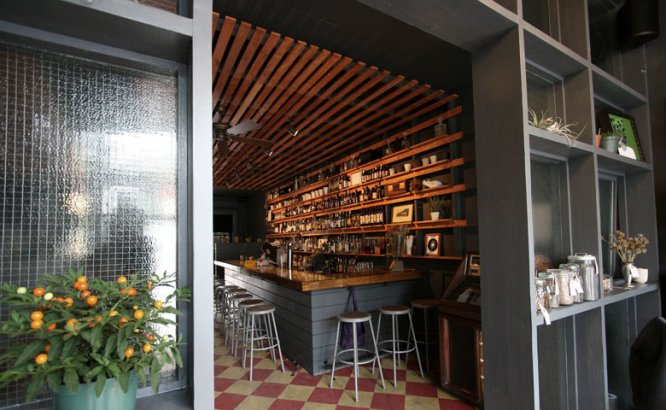 (Photo: stat2.architizer.com)
Where to Meet: Plan to meet up at the cute and casual Sycamore Bar & Flowershop (1118 Cortelyou Road). Impress your date or expect to be wowed with exotic and beautiful flowers like blue hydrangeas or perhaps a fig tree. Depending on how well you know your date, a taste in flowers can really tell a lot about a person. Follow up flower browsing with a local or international craft beer, best enjoyed on a picnic table during warm weather. If you're having too much fun to leave, Sycamore encourages the ordering of food to their location, and even provides a grill to cook your own BBQ.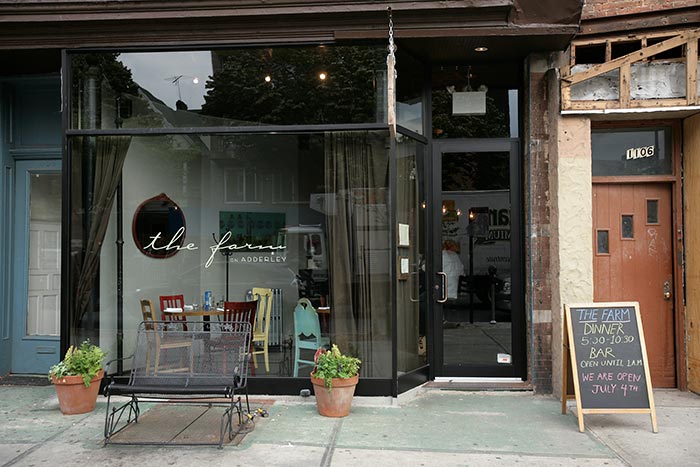 (Photo: ontheinside.info)

Dinner: Down the street from Sycamore, many know The Farm on Adderley (1108 Cortelyou Road) as the stand that caters fresh dishes in Prospect Park during summer concerts. The restaurant in Ditmas Park serves local ingredients in creative and delicious ways and their garden area is incredible. Seasonal dishes like kale salad, chilled corn soup, and pan-roasted fluke make for the perfect date food: light and delicious, filling you with joy and not making you feel stuffed and sluggish the way a heavier meal might. The farm-like setting is cute and romantic, without the type of pressure a dark, candlelit restaurant may instill.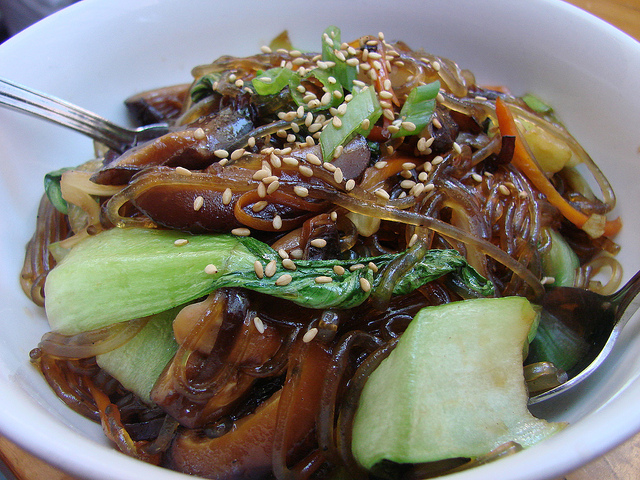 (Photo: Jap Chae, via blondieandbrownie.com)

Purple Yam (1314 Cortelyou Road) is another trendy option for a Ditmas Park dinner date. This Phillipine-cuisine inspired, pan-Asian restaurant is popular with locals and will keep you intrigued with unique dishes like jap chae, thin sweet potato noodles tossed in a rich, umami-explosive sauce with shitake mushrooms. Mussels in Thai curry, oxtail in peanut sauce, and various homemade desserts are all must-shares, bringing a creative level of intimacy from the end of your chopsticks right into your date's mouth.

(Photo: Borough Park Pie, via ditmasparkcorner.com)
If you're planning on a more casual date, stop by Wheated (905 Church Avenue), Ditmas Park's trendy new pizzeria that serves individual pies for $10-15. Impress your date by ordering a selection of the handcrafted pizzas, each themed around a Brooklyn neighborhood like the Vinegar Hill topped with potatoes, thyme and grape syrup, or the Coney Island with chorizo and pineapple. Creative cocktails, wine, and beer are also available, so toast your date with some prosecco to amp up the evening.
For lighter fare, check out Mimi's Hummus (1209 Cortelyou Rd), a chic spot owned by a Brooklynite eager to share her family's Middle Eastern recipes. The small spot is cozy and offers a fun vibe, and the delicious food will give you plenty to talk about if conversation lulls. Share small plates like mushroom or meat hummus, stuffed grape leaves or eggplant caviar, or go with a breakfast for dinner theme and indulge in the savory Shakshuka, eggs served in Moroccan-style tomato stew.
Drinks: After a fantastic dinner, sometimes the best activity is relaxing at a dive bar. Stop by the 773 Lounge (773 Coney Island Avenue), where the floors are sticky and the beer is cheap.
Shenanigans Pub (802 Caton Avenue) has been a neighborhood hipster hangout since the 80s, and trivia Wednesdays or karaoke Saturdays can make for fun date night activities.
New to Ditmas Park nightlife, Bar Chord (1008 Cortelyou Road) is open until 2 am nightly, and provides cheap drinks along with frequent live music and jam sessions. If it's too cold for the garden, the rustic wooden interior is a romantic place to sip a classic cocktail.

(Photo: Flickr.com)
If you're more of a coffee-drinker, or want to keep your date up later, head to Café Madeline (1603 Cortelyou Road) for its famed Australian iced coffee with ice cream, along with several other espresso drinks, tea, and French pastries, in a chic European setting. Whether your date is a native Brooklynite or a Parisian tourist, there's nothing like French flare to ignite romance.
Dessert and Late Night Snack:Open around the clock, visit MashAllah Sweets & Restaurant (63 Coney Island Avenue) for moist, flavorful Pakistani kebabs and a variety of decadent Bangladeshi treats sparkling like gems in the glass case. You can order desserts to go to send your date off with a sweet memory of the night, or sit at a small table and continue ordering and chatting until your heart's content.
Midnight Stroll: Stroll down Marlborough and Stratford Roads and many other streets off Cortelyou and Beverly Road to admire the brightly colored Victorian houses, and perhaps even gaze up at some stars, a possible sight in this low-structured neighborhood. Wander hand in hand down side streets to get lost on a romantic walk, where each block is filled with more breathtakingly beautiful houses.
Where to Part: End your night at the B,Q train stop at Newkirk Avenue, which has some benches and businesses outside in case you decide to linger for a few minutes before calling it a night.