Arts
&

Leisure
Jumpstart Your Week: March 17-19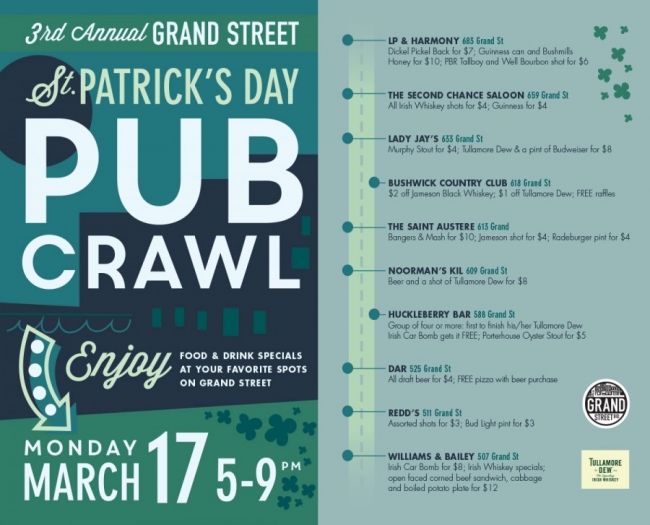 (Photo: grandstbklyn.com)
Jumpstart Your Week is our weekly feature of things to do in Brooklyn designed for you to start your week pumped and keep you going so you can get over the hump.
Monday March 17, 2014
Pints of Gold
Today, all signs point to Grand Street for their third annual Saint Patrick's Day Bar Crawl. Ten restaurants and bars team up to offer magically delicious food and drink specials. Get assorted shots for $3 at Redd's. Irish Car Bombs, Whiskeys, open faced corn beef sandwiches at Williams and Bailey, Bangers and Mash at The Saint Austere, and more. Run out of work, stop at each location on the crawl, and then wobble home. It's tradition.
Where: Various locations, Grand Street between Union and Graham Avenues, East Williamsburg
Time: 5pm – 9pm
Cost: Varies

Red Heads Have More Fun
There will be food, drinks, and naked red heads at Wasabassco Burlesque's Saint Patrick's Day is for Sinners show featuring an all red-headed line up. Nasty Canasta, Albert Cadabra, Gal Friday, Gin Minsky, Mischief Molly, Nina La Voix, Scooter Pie, Trixie Little, and special guest Ludella Hahn will all grace the stage.
Where: Bell House, 149 7th Street, Gowanus
Time: 8pm
Cost: $20
Tuesday March 18, 2014
Theater of the Mind
In a world where the bad guys seem to be having all of the fun, it's not uncommon to ask "Why be good?" Characters attempt to answer this and other philosophical questions while navigating through moral dilemmas in the theatrical production "Republic," by the Hoi Polloi Theater Company. Under the direction on Alec Duff, actors Jess Barbagallo, Lori Parquet and Jason Quarles, take on the "blueprint for a good life," as laid out in Plato's Republic.
Where: JACK, 505 1/2 Waverly Place, Clinton Hill
Time: 8pm
Cost: $18
Wednesday March 19, 2014
Reading Gone Wild
Who says there's no room for debauchery among the literati? Homemade cookies, enough wine to make you participate in the Bieber vs. Believer sing-a-long, and break up poetry from high school are all on the agenda at the Renegade Reading Series. Readings from Kelly Marages, Hubert Vigilla, Ed Kearns (Buzzard's Banquet), Melissa Swantkowski (Bodega Magazine), Katie Dykstra (Guernica).
Where: LaunchPad, 721 Franklin Avenue, Crown Heights
Time: 8pm
Cost: $5
Thanks for visiting our site. We appreciate hearing from you, so if you see or hear something exciting, send us a or leave a comment.