Food
&

Drink
New Eats and Drinks: Northern Territory, Dziupla, Verboten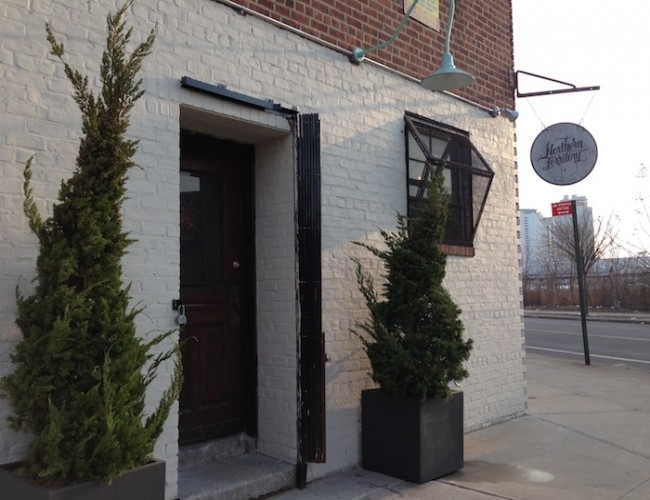 (Photo: Northern Territory, via Brownstoner.com)
Every week we take a peek at new restaurants and bars opening in Brooklyn.
Greenpoint
Though it seems that rooftop bar season is eons away (or not, depending on the hour in this crazy-weather city), a new rooftop bar by the creators of Berry Park has opened: Northern Territory. The convertered warehouse has a rustic indoor decor, and plenty of outdoor space for when the temperature decides to cooperate. Northern Territory will serve up hearty Australian, German and American food, including beef meat pies from the Tuck Shop, chicken schnitzel, and fish and chips. The menu also includes various grilled skewers, like chicken and grilled green onions, garlic shrimp and lemon, and mint marinated lamb and onions, reports Brownstoner. 12 Franklin Street
Park Slope
Carnivores will be happy to learn that neighborhood favorite since 1999, Bonnie's has added two new permanent menu items: hot dogs and ribs. Three hot dog options include Applewood Pork, Chili Cheese, and sausage, and the half-rack of ribs is cooked in homemade BBQ sauce and served with a variety of sides. 278 Ffith Avenue
Williamsburg
Polish-born and Nobu-trained chef Krzysztof Drewiecki (of Greenpoint's Karczma and Krolewskie Jadlo) opened Dziupla. Polish brunch, lunch, and dinner will all be served, with menu items including Kurobuta Bacon Stuffed Smoked Plums, Blood Sausage With Cooked Cabbage, and of course, plenty of pierogies. A vegetarian menu is also available. 194 Bedford Avenue
Much-anticipated bar and mega dance club, Verboten, has finally opened! The first few weekends have a lineup of burlesque, hip hop, and electronic music, and some events are free with RSVP. Drinks-wise, the cocktail list looks magnificent. Jalapeno-infused mezcal, absinthe with Red Bull and Sparkling wine, and a "Clockwork Orange" whiskey and orange soda concoction all look intriguing. 60 North 11th Street
Brooklyn's favorite BBQ joint, BrisketTown is now serving a free keg of beer every Tuesday night. The keg will change each week, and will be tapped at 5 pm on Tuesdays. The beer is self-serve and free until it's gone, so stuff your mouth with meat at your own pace. 359 Bedford Avenue
Thanks for visiting our site. We appreciate hearing from you, so if you see or hear something exciting, send us a or leave a comment.