Arts
&

Leisure
The Grand Budapest Hotel Opens Its Doors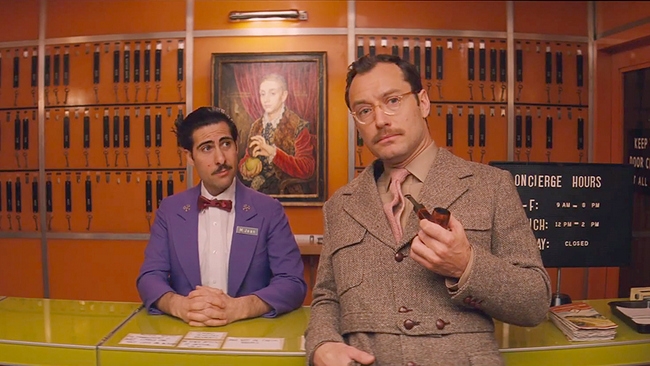 (Photo: www.highsnobiety.com)
Celebrated auteur director Wes Anderson charms our hearts again in his eighth feature film, The Grand Budapest Hotel.
Anderson is best known for his whimsical worlds and his dry, deadpan scripts filled with sincerity and honesty. With each film, Anderson's worlds become more defined and his stories more ambitious. Budapest is probably his most thrilling film since The Royal Tenanbaums.
The Grand Budapest Hotel journeys to the fictional Eastern European country of Zubrowska, where the titular hotel is home to a lavish, pre-war spa resort run by the charming concierge M. Gustave H, played with casual finesse by Ralph Fiennes. M. Gustave recruits the young Zero Moustafa (newcomer Tony Revolori) as a lobby boy who eventually becomes a trusted friend. When the hotel's 84-year-old patron Madame Céline Villeneuve Desgoffe und Taxis (a severely aged and delightful Tilda Swinton) dies and leaves M. Gustave with a valuable painting, the dowager's callous son Dmitri (Adrien Brody) accuses the concierge of murder. After escaping prison with the help from heavily tattooed prisoner Ludwig (Harvey Keitel), our leading man and his protégé go on the run from the cops, lead by police Captain Henckels (Edward Norton) and Dmitri's nefarious henchman Jopling (Willem Dafoe), all while trying to prove Gustave's innocence. This quirky caper includes a riveting ski chase, an epic game of telephone tag with other hotel concierges played by some of Anderson's regulars (Bill Murray, Owen Wilson, Jason Schwartzman), and a ruse involving some pastries and Zero's one true love Agatha (Saoirse Ronan), who works at the famed Mendl's Bakery. It's a rollicking, goofy, laugh-out-loud ride that will leave you on the edge of your seat but also warm your heart.
Though he is best known for his dramatic roles, Fiennes is simply amazing as M. Gustave. The concierge is charming yet crass, sophisticated yet sassy, haughty yet hilarious, and no other actor could play the part. Everything in The Grand Budapest Hotel––from the fast-paced dialogue to the elaborate sets to the impeccable costumes to Alexandre Desplat's vibrant score that doesn't use any traditional orchestral instruments––transports you to Anderson's wildly imaginative mind and lets you escape to a world that is a bit more refined than your own.
The Grand Budapest Hotel opens in Brooklyn:
Friday, March 14 at BAM Rose Cinemas (30 Lafayette Ave, Fort Greene)
Friday, March 21 at Williamsburg Cinemas (217 Grand St, Williamsburg) and Cobble Hill Cinemas (265 Court St, Cobble Hill)
Friday, March 28 at Brooklyn Heights Cinema (70 Henry St, Brooklyn Heights)
Thanks for visiting our site. We appreciate hearing from you, so if you see or hear something exciting, send us a or leave a comment.