Arts
&

Leisure
Movie Review: Our Idiot Brother – Wise Idiocy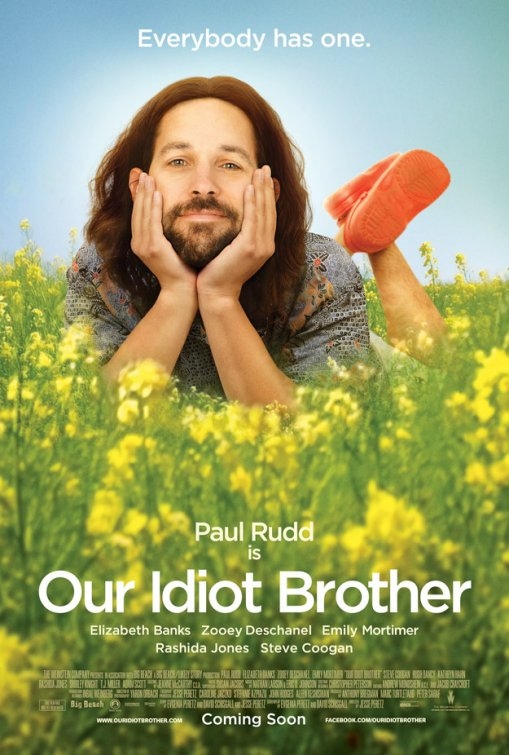 (Photo: via Black Sheep Reviews)
The 2011 summer movie season may be winding down, but it isn't over yet. Our Idiot Brother comes to town and provides big laughs and endless charm to give the summer one last hurrah before Oscar season begins to heat up.
Our Idiot Brother, starring Paul Rudd, is a breath of fresh air. It moves away from typical slapstick bozo humor and actually works hard to create a character that is both sweet and endearing. If Our Idiot Brother's comedy doesn't win you over, its charm certainly will.
Meet Ned (Paul Rudd). Ned works on an organic farm. He, very often to his disadvantage, blindly trusts people. More than anything, he loves his dog, Willie Nelson. Ned's life is uprooted when he sells marijuana to a uniformed police officer (he is an idiot, after all). He goes to jail, loses his job, loses his girlfriend, loses his home, and worst of all, loses Willie Nelson to his now ex-girlfriend.
And so the movie begins. Ned bounces from the home of sister 1 (Emily Mortimer), to sister 2 (Elizabeth Banks), to sister 3 (Zooey Deschanel), all the while doing something idiotic to incur the wrath of his siblings.
Yes, Ned is an idiot, but what's most likable about Rudd's performance is that he doesn't take the easy way out. With a title like Our Idiot Brother in today's Hollywood, it may sound like a given that the idiot would be a complete moron who's stupid for the sake of being stupid, making Our Idiot Brother broad, lowbrow lunacy.
Not so with Ned. Ned tries his darndest to be a good human being. His stumbles along the way, many his fault, are what make him an idiot. This in turn shows Ned to be someone with an almost childlike innocence and a person who doesn't know when he's doing something wrong. Along the way of the movie, the characters really learn how Ned views the world. Despite being an idiot, Ned turns out to be the wisest member of his family.
It would be wrong to say Our Idiot Brother is a classic to stand the test of time, but it's a comedy that is thoroughly enjoyable and isn't aimed at the lowest common denominator audience.
Thanks for visiting our site. We appreciate hearing from you, so if you see or hear something exciting, send us a or leave a comment.