Arts
&

Leisure
Ultimate Guide to Open Mics: Poetry, Readings, Music, Comedy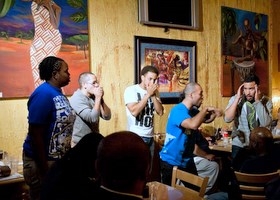 Brooklyn is doubtlessly the city's hotbed for creatives, but with so much happening it may be difficult to keep track of when and where to find up-and-coming talent before they make it big. For this purpose, we've indexed many of the borough's various open mics and monthly reading or performance series, along with a recommendation here and there for what you might want to eat or drink upon your visit. Whether you want poetry, stories, music or comedy, we have a night for you.
Brooklyn is a great place to be social and enjoy your friends and make new ones and, and this guide is packed with enough open mics, and recurring performances that you'll have an excuse to go out to a bar every other night each week.
Upcoming Events
Literary Karaoke: Celebrity Memoirs
The always-impressive indie bookstore WORD in Brooklyn recently proposed a creative twist on the old karaoke formula: rather than performing songs, participants read a passage of their choosing from whatever book they think will impress the crowd. Each night features a different theme (this month's theme is the juicy Celebrity Memoir, and Banned Books on September 29), and is a situation that provides little chance for embarrassment as a standard karaoke night would.
http://www.brooklynexposed.com="">Franklin Park Bar & Beer Garden | 618 St. John's Pl (b/w Classon/Franklin Aves) | Crown Heights | 719-975-0196 | 2nd Monday each month, 8pm
The Poetry Exchange
This monthly reading series, presented by BurrowsInk, "strives to bridge the gap between veteran writers and new/up and coming writers in the black diaspora," though you will not only see writers—artists of all types are known to drop by, also. Hosted by accomplished poet and upcoming musician Sabrina Gilbert.
Brooklyn Moon | 745 Fulton St (b/w S Elliot Pl/Portland Ave) | Fort Greene | 718-855-7149 | First Monday every month, 7pm | $5 admission
TUESDAY
Caribbean Soul
If you'd rather kick back with a drink and music than listen to a reading, Caribbean Soul (formerly Soule Restaurant) has a night for you, too. Each third Tuesday of the month, Caribbean Soul offers an open mic night presented by singer, songwriter, MC and poet Tuan X. Musicians of any flavor or experience level are encouraged, though poets are invited to share their work also.
Caribbean Soul | 920 Fulton St (b/w Washington/St. Jame's Pl) | Clinton Hill | 718-399-7200 | 3rd Tuesday each month, 7pm
Brooklyn Unplugged
Another series at Franklin Park, Brooklyn Unplugged is a monthly acoustic music series that promises a relaxed and intimate atmosphere, but not without a DJ to spin jams afterward. Of course, Franklin Park is the destination of beer drinkers, and $4 Smuttynose IPA is offered for the entire night. No cover!
Franklin Park Bar & Beer Garden | 618 St. John's Pl (b/w Classon/Franklin Aves) | Crown Heights | 719-975-0196 | 3rd Tuesday each month, 7pm
Takeoff Tuesday
Sponsored by Rockethub, Takeoff Tuesday is not just your average open mic but also a spoken word and musician workshop. Take the opportunity to shred on one of Rockethub's high-end Gibson guitars before a crowd, and stay after 9 to watch one of Spike Hill's many shows until midnight (check the website to see who's playing.)
Spike Hill | 154 & 156 Bedford Ave (b/w N 6th/7th St) | Williamsburg | 718-218-9737 | Each Tuesday, 7pm (signup at 6:30)
Bar 4
Come early to Bar 4's open mic night, which is generally pretty packed due to the awesome slew of music. But the party doesn't stop, with the open mic's "late night" porton beginning at 2am (if you're performing late night, be sure to ask the bar tender for a free drink ticket!) Comfortable couches available for those pleased to simply listen.
http://www.brooklynexposed.com="">The Tea Lounge | 837 Union St (b/w 6th/7th Aves) | Park Slope | 718-789-2762 | 3rd Tuesday every month
WEDNESDAY
Belleville Lounge
Hosted by comedian Josh Guarino, the Belleville Lounge is the site of another all-encompassing, all-genres-welcome open mic. While admiring the tunes, try a bottle from Belleville's extensive wine menu, or the stunning steak frite.
Belleville Bistro & Lounge | 330-332 5th St (b/w 5th/4th Aves) | Gowanus | 718-832-9777 | Each Wednesday, 8pm
Le Grand Dakar
Clinton Hill's unique traditional African-centric restaurant has a mic of its own, hosted by poet and Nuyorican semifinalist Rock Wilk. While watching, try out a vegan mafe or wolf down a dak' burger!
Le Grand Dakar | 285 Grand Ave (b/w Clifton Pl/Lafayette Ave) | Clinton Hill | 718-398-8900 | Each Wednesday, 7pm
THURSDAY
LP & Harmony
The place to be on the first Thursday of each month is LP & Harmony. Performances of all type are welcome, whether that be comedy, spoken word, music, or whatever talent you can show off before an audience. Hosted by musician Will Hanza.
LP & Harmony | 683 Grand St (b/w Graham/Manhattan Aves) | Williamsburg | 1st Thursday each month, 9pm (signup at 8:30)
Tillie's of Brooklyn
The place to be on any other Thursday would be Tillie's located in Clinton Hill. Also open to all acts, Tillie's provides a variety of great talent in a burgeoning creative community. Hosted by local artist Michael Harris. And while you're there, cool off with a delicious smoothie or home-made chai latte over ice.
Tillie's | 248 Dekalb Ave (b/w Vanderbilt/Clermont Aves) | Clinton Hill | 718-783-6140 | Every Thursday, 7:30pm (signup at 7:15p)
SATURDAY
Fireside Follies
Touted as "Bushwick's finest reading series," this free reading series features works on all aspects of literature, whether that be poetry, fiction, creative nonfiction or what have you. Readers are hand-picked by curators Eric Nelson and Michael Lala, whose works have been performed in New York, Philadelphia and Baltimore, so you know what you'll see is guaranteed to be grand.
http://www.brooklynexposed.com="">Pete's Candy Store | 709 Lorimer St, b/w Richardson/Frost Streets) | Williamsburg | 718-302-3770 | Every Sunday, 5-8pm
Perch Café & Bar
Welcome to both poets and musicians, Perch offers the opportunity to spend a chill Sunday night in Park Slope. Perch prides itself on the company it keeps, and there's hardly a trendier crowd to appreciate up-and-coming talent with over a bottle of wine.
Perch Café & Bar | 365 5th Ave (b/w 5th/6th St) | Park Slope | 718-788-2830 | Every Sunday, 7pm.
Thanks for visiting our site. We appreciate hearing from you, so if you see or hear something exciting, send us a or leave a comment.