Events
Mustache Party: Free Comedy Show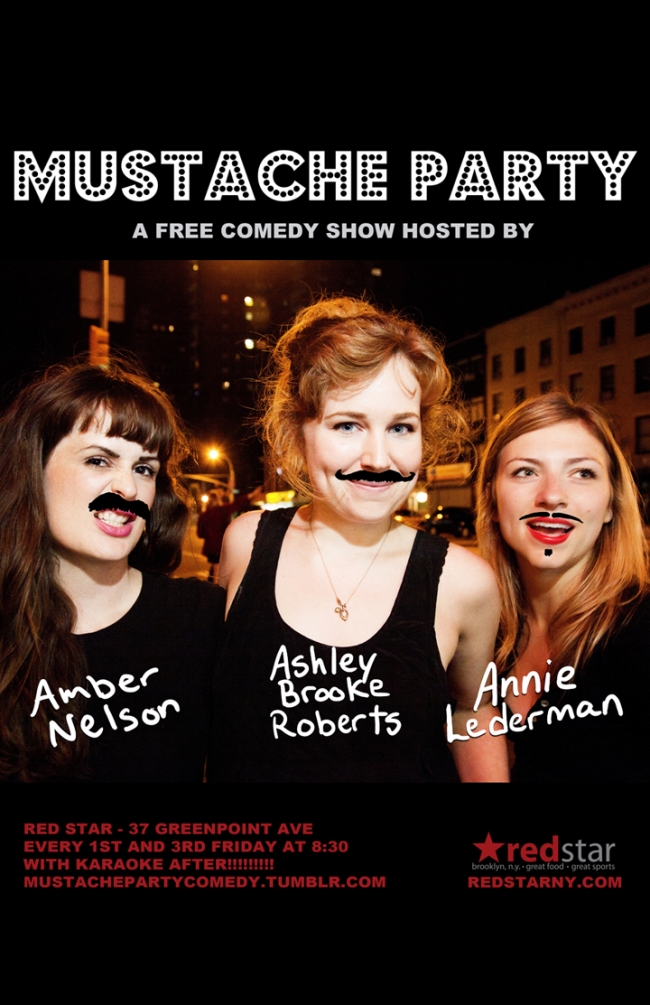 DATE: October 3, 2014
TIME: 8:00pm - 12:00am
PRICE: Free
ADDRESS: 37 Greenpoint Avenue b/w Franklin/West St) Brooklyn, NY 11222
Event Description:
Come to Red Star on the first and third Friday of every month and catch NYC's best, new comedy show for FREE! No cover! No drink minimum!
Hosted by comics Annie Lederman, Amber Nelson and Ashley Brooke Roberts. Mustache Party showcases some of New York City's top comics.
Red Star is proud to be home of the soon to be famous, Mustache Party, NYC's premier, FREE comedy show. We bring you the best in comedy on the 1st and 3rd Friday of every month at 8pm.
Annie Lederman is a New York based standup comedian who has been featured in RE:Comedy Magazine and seen on Fox. Once a juvenile delinquent, now a recovering drunk, Annie brings a combination of stories from her party girl past and current everyday social hiccups
to the stage and shows audiences how to find funny in the flaws.

Amber Nelson is a New York Comic who hosts Gutbucket at UCB East, as well as performs on the UCB maude team Thunder Gulch. She's also appeared on FunnyOrDie, Huffington Post, and Atom.com

Ashley Brooke Roberts is a New York comedian who performs all over the city. She has a weekly radio show on Washington Heights Free Radio and has appeared on FunnyOrDie, the Apiary and Huffington Post. She also really likes her banjo and animals.
As if these three beautiful and hilarious ladies hosting a FREE COMEDY SHOW isn't enough, they offer their fans a FREE KARAOKE AFTER PARTY immediately following the show!