Sex
&

Dating
A Date in South Williamsburg
(Photo: Victoria Belanger, Flickr)
Movies, the fountain from which our notions of city romance springs, always make it seem as though Manhattan is the island for moonlit strolls and star-gazing, and Brooklyn is just a great place for mafia henchmen to dump bodies. But this is not so. The truth is that this borough's diverse neighborhoods, empty streets, and idle waterways lend it a great deal of romance that is often overlooked. To enlighten us all, Brooklyn Exposed presents a series of sample dates in neighborhoods whose amorous appeal is yet to be discovered.
With Bedford Ave becoming known across the globe as the hippest stretch of road in the borough, most city-dwellers come across bridges, through tunnels and trains to embark on the cultural explosion that spans across Bedford from North 1st street to North 11th, the area we all know as Williamsburg. But while these popular and frequented establishments, flea markets, and rustic dimly-lit bars have become so well-known that it can hardly be described as up-and-coming, there is a whole uncharted area just below Northside, which is simply known by residents of this neighborhood as South Williamsburg.
As tourists pack the hot spots of northside, those in the know have fled to the southern end of this vibrant hood, uncovering the most date-worthy spots from speakeasy dive bars to artisanal food havens. If you haven't ventured around this beloved better-half of Williamsburg, we're here to bring you the best romantic spots to take your potential beloved better-half.
Where to Meet: With everyone constantly lamenting about the L train, you're in luck because the JMZ not only hasn't been noted as a date-ruiner (ahem, G train), but the Marcy stop is also smack dab in the middle of South Williamsburg, surrounded by all of your favorite hot spots. Bonus: if your date is coming from Downtown Manhattan, or really anywhere in Manhattan, it's a just quick ride straight to BK.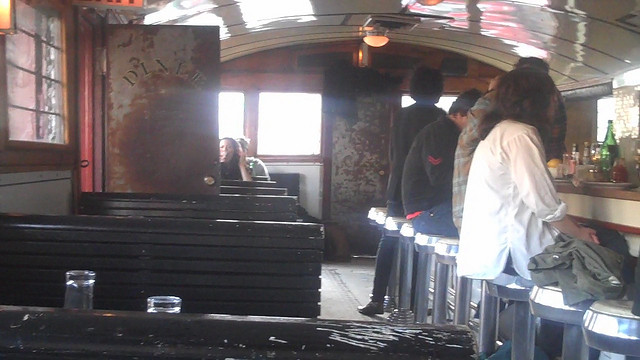 (Photo: Kristen Taylor, Flickr)
Dinner: You can head straight up Broadway from the JMZ train to arrive to your first destination: Diner (85 Broadway). Housed in a real, old-school dining train car circa 1920, Diner offers an incredible menu which is cleverly hand-written on the table cloth as you sit down to dine. Each night's dinner choices are based on whatever ingredients the chef went shopping for that day, which means the menu changes on a daily basis, ensuring a one-of-a-kind experience. With a rustic, cozy ambience, and the season's freshest goods like wild sockeye salmon ($25) and rabbit meatballs ($21), you'll be sure to earn points for originality.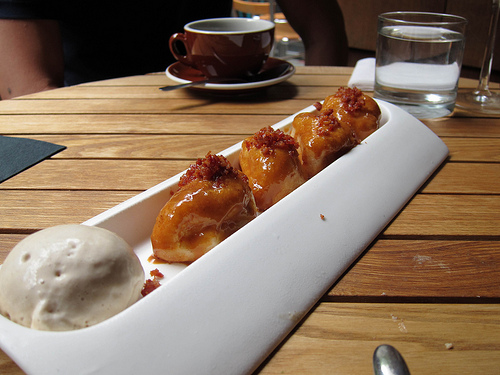 (Photo: Chinkerfly, Flickr)
Post-Dinner Dessert: There are few things more sweet (pun intended) than sharing a mouth-watering dessert with your date, which is why it's imperative you stroll over to Traif (229 S. 4th Street) for some post-dinner dessert. Your must-have sweet treat? Traif's famously irresistible bacon donuts are what some might consider true bliss on a plate. The heavenly snack consists of miniature donut holes made out of buttermilk biscuit dough, topped with dulce de leche glaze, sprinkled with bacon and served with coffee ice cream. Forget the 'breakfast for dinner' mantra–breakfast for dessert will become your new meal of choice.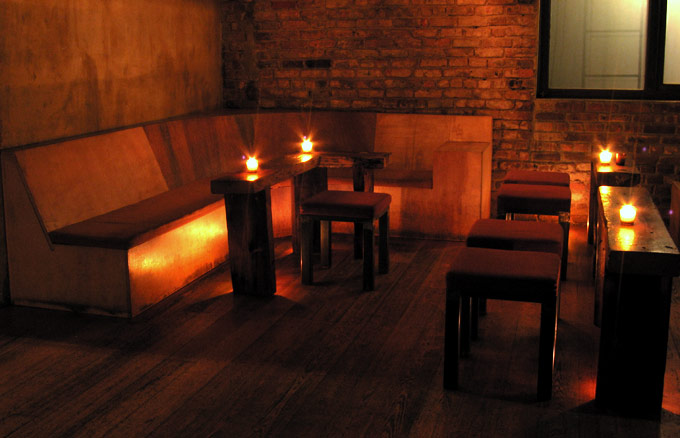 (Photo: larrylawrencebar.com)
Post-Dinner Drinks: Continue your '20s themed night by heading to speakeasy dive bar, Larry Lawrence (295 Grand Street)—but keep your eyes peeled, as the only indicator that you've stumbled upon the joint is the faintly stenciled word "Bar" written on the outside of this loft hideaway. After passing through a long hallway, and walking through an unmarked steel door, you'll find yourself in this vibrant, warmly-lit rustic bar. With a uniquely designed second floor rooftop, smoking deck, bartenders that pour strong (but not pricey) drinks, and wood-paneled booths faintly lit by a sea of tiny tealight candles, you and your date can cozy up in this hidden gem. Bonus: during the week, it's almost guaranteed that you'll have the whole place to yourself, perfect for some late-night cuddling, and who knows, maybe a first kiss?
Where to Part: Stroll back toward the waterfront to catch the East River Ferry (440 Kent Avenue) at the South Williamsburg stop. If your date is returning to Manhattan, or you just want to take in the soothing ride and head back to Brooklyn, you can enjoy the stunning skyline views with your date atop this public transportation-turned love boat. Is there really a better way to round out your night than floating by the awe-inspiring cityscape? We think not.