Nightlife
&

Music
Your March Music Agenda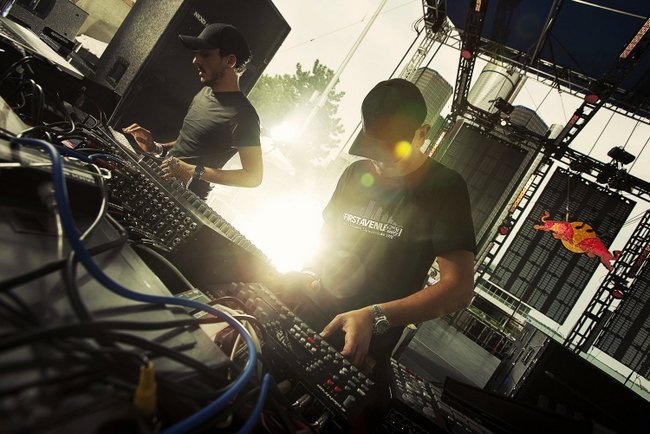 (Photo: Tiger & Woods, via www.redbull.com)
March. The month of madness, baseball, spring and oh yeah, consistently good music coming out of New York's greatest borough. Here's who you need to check out this month.
By: Gabrielle Sierra // Matthew Monagan // Sybil St. Hilaire
Indie Pop
Ava Luna Electric Balloon Record Release
March 25 // The Silent Barn, 603 Bushwick Avenue, Bushwick // 8pm-12am, $10
Local favorites Ava Luna will be releasing their latest album, Electric Balloon, via Western Vinyl, and the group will be celebrating with a party at Silent Barn. Ava Luna is known for the full jazzy electro-soul-funk sound, and their big band style is sure to fill Silent Barn's intimate space. The group will be joined by Krill, Jerry Paper, Ashcan Orchestra and Railings.
Rock/Indie Rock
Screaming Females, Tuff Tits, Secret Band
March 7 // Silent Barn, 603 Bushwick Avenue, Bushwick // Show 8 pm, $10
An eclectic group of bands at an even more eclectic Brooklyn venue. The Screaming Females, who've played with bands such as Garbage and Arctic Monkeys, will team up with the hard-thumping beats of Tuff Tits and Secret Band to put on a can't-miss show this week.
Band of Skulls
March 20 // The Warsaw, 261 Driggs Avenue, Greenpoint // Show 7 pm, $22.50
From the nightclubs of Greater London, to the bright lights of New York City (well, Greenpoint). The indie-rockin Band of Skulls will be playing some of their classics while (hopefully) giving fans a sneak peek into "Himalayan" – their new LP due out in March. Who knows, though? You should really go see for yourself.
Elysian Fields
March 22 // Rough Trade, 64 North 9th Street, Williamsburg // Show 8 pm, $15
Drift away into the Elysian Fields during the fourth Saturday of the month. Let the soft chords and Jennifer Charles' sweet voice ease your stress after a long work week. These Kings County natives deserve a grand hometown welcome.
Bob Dylan in the 80s Record Release Show
March 24 // Music Hall of Williamsburg, 66 North 6th Street // Doors 8pm, Show 9pm, $18 advance, $20 day of show
Pay tribute to Dylan by celebrating some of his lesser-known and underappreciated 1980's songs. The lineup will feature Langhorn Slim and Ian of Deer Ticks, Elvis Perkins, Spirit Family Reunion, Dawn Landes, Yellowbirds, Hannah Cohen, members of Tea Leaf Green and some more "to be announced" guests. The evening promises to be part dance party as well, with attendees asked to don their finest 80's duds.
Electronic
French Horn Rebellion
March 6 // Glasslands, 289 Kent Avenue, Williamsburg // Doors 8:30pm, $10
Get ready to dance when the Molinari brothers set up shop at Glasslands for a Thursday night Popgun party. These talented siblings rock the electro beats and killer French horn solo, jumping into the crowd and working the room with seemingly endless energy. They will be joined the Damn Right! and a "to be announced" late night guest.
Mister Saturday Night With Eamon Harkin and Justin Carter
March 8 // The Bell House, 149 7th Street, Gowanus // 10pm, $20
The DJs behind summer's best outdoor dance party, Mister Sunday, will arrive to take over The Bell House. Harkin and Carter will be bringing their own sound system, so be ready to blow the roof off the joint.
Bang On! Frequency Opening Party 2014
March 22 // Location TBD, East Williamsburg // 10pm, $30-$95
From the folks that bring you the face-melting Bang On! parties comes a new monthly rave called Frequency. The evening will feature a variety of dance music from all over the globe, and each party will be held in various underground venues announced to ticket holders closer to the event. This 2014 edition will be held in a secret, brand new warehouse and feature circus performers, aerial art installations, live body painting, food vendors and more. The party will feature Oliver $, Robert James, The Golden Pony and more.
Tiger & Woods
March 27 // Output, 74 Wythe Avenue, Williamsburg // Show 10 pm, $15
You wanna dance? DJ extraordinaire Tiger & Woods will kick off an all night affair that includes sets from Poolside DJ and DJ Spun. If you know Output, you know that the venue was made for this type of music. Drink those energy drinks and stay hydrated. 5 am is your goal.
This Party is Killing You: A Night of All Robyn Everything
March 28 // Glasslands, 289 Kent Avenue, Williamsburg // Doors 11:30pm, $5
Oh hell yes. This celebrated Robyn themed DJ party will kick off their first 2014 night at Glasslands. The evening will honor one of Sweden's greatest exports, with Adventure[s], A Place both wonderful and Strange, Bottle Rockets, Jeffo Bang, and visuals by Paris. Get ready to get sweaty.
Ska
Reel Big Fish
March 17 // Brooklyn Bowl, 20 61 Wythe Avenue, Williamsburg // Show 8 pm, $17
Reel Big Fish is what Brooklyn Bowl's enormous dance floor was made for. Grab your friends, have yourself a beer and listen to one of the greatest ska bands of all-time. 1990's-era attire (and dance moves) required.
Soul/Funk
Soulive
March 21 // Brooklyn Bowl, 61 Wythe Avenue, Williamsburg // Show 6 pm, $20
Upbeat. Catchy. Beatles fans Soulive. What more could you ask for on a Saturday night? The jazzy, funk-filled trio from Buffalo, NY will hit the Music Hall's stage mid-month. Seeing Soulive live is a must, because, well, Soulive.
Hip Hop
March is a big month in hip hop history. It is the month when we lost Brooklyn's own Notorious B.I.G, iconic film Wild Style was released, and the month in 2006 when Three Six Mafia became the first rap group to win an Oscar. Here is a round-up of events to help you pay homage. Sybil St. Hilaire
#Offline w/ Q-Tip & Natasha Diggs
March 5th //Output, 74 Wythe Avenue, Williamsburg// Doors 10pm, $15 Advanced tickets
Looking for a place to get your weekly hip hop fix? Check out #offline, the weekly dance party that features Q-tip. Yes, THAT Q-TIP, former members of A Tribe Called Quest. Natasha Diggs will also be guest dj-ing. Go and channel your inner vibrant thing.
DJ Questlove presents: Bowl Train
March 6th //Brooklyn Bowl, 61 Wythe Avenue, Williamsburg// Doors 10:30pm, Show 11:00 pm; $5 in advance, $8 at the door
If you think going out on a Wednesday is too aggressive, Bowl Train might be right for you. This party is a nod to the iconic Soul Train dance party. You can choose to bowl, or just dance the night away as classic episodes of Soul Train play in the background. The best part? No matter what you decide you'll be able to feel the Roots crew love since DJ Questlove will be spinning.
Notorious B.I.G Tribute Party
March 8th // Littlefield, 622 Degraw Street, Gowanus // $10; $5 before 11pm with RSVP
If you have been in Brooklyn long enough, you've definitely made it to one of Rich Medina's REVIVAL parties at Free Candy. If you're one of the few who hasn't here is the perfect reason to check it out. Throw on your finest coogi sweater and get ready to spread love, it's the Brooklyn way.
Kid Cudi
March 22nd // Barclay's Center, 620 Atlantic Avenue, Prospect Heights // Show 8pm, $59.65-$87.20
Catch Kid Cudi before he hits the festival circuit. The rapper who shot to fame with his hit single "Day N Nite" will be performing at the Barclay's Center later this month. Just in time to watch him perform songs from his latest album, "Satellite Flight: The Journey to Mother Moon". King Chip will also be performing. We're looking forward to this space odyssey.
The Core Hip Hop Open Mic
March 22nd// Nicholas Brooklyn, 570 Fulton Street, Downtown Brooklyn // Show 7pm, $7
Want to discover the next crop of hip hop talent? Come and check out this open mic night. Your admissions fee includes complimentary wine. Sip and see the talented rappers, emcees, beat boxers, poets, and djs among us. They will all be competing for a $75 cash prize.
90s Hip Hop and R&B Sing Along
March 28th // Union Hall, 702 Union Street, Park Slope // Doors 9:30pm, Show 10:00pm; $8
Put on your parachute pants and practice your cabbage patch. This party is your chance to spend two hours scream yelling the lyrics to all your favorite 90s hip hop and R&B songs. Whether it's "Return of the Mack" or "Gangsta's Paradise" this is your chance to relive the good old days. There will also be a dance off, so get prepared.
Assorted
Party Like it's 1999: The March of Buffy Edition
March 7 // The Bell House, 149 7th Street, Gowanus // 10pm, Free
Honor the week we first discovered Buffy The Vampire Slayer, March 7, 1997. Travel back in time and party with Buffy, Xander, Willow, Angel and Cordelia -- or at least a bunch of people who really really loved to watch them on TV. The evening will feature some pop, R&B, hip-hop, and other hits from the 90's.
Thanks for visiting our site. We appreciate hearing from you, so if you see or hear something exciting, send us a or leave a comment.