Events
Mystery Monday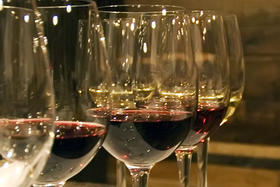 DATE: June 30, 2014
TIME: 5:00pm - 11:30pm
PRICE: $10
ADDRESS: 213 North 8th Street Brooklyn, NY 11211
Event Description:
Want to learn about wine? We're bringing you a really fun (and tasty) way to educate your palate with Mystery Mondays! Here's how it works:
Each and every Monday, we'll offer two mystery tasting flights—one red, one white—of wines we select from our menu. Pick a flight (cost: $15) and we'll pour you three tastes. We'll provide tips on how to do a blind wine tasting, and your server will even let you know which three wines we poured—it's up to you to try and figure out which is which.
Think you're a big wine geek? If you're up for the challenge, ask your server not to tell you which three wines we poured. You'll either surprise yourself…or you'll be totally stumped!