COLUMN:
The Nosh
The Nosh is our curated column of dishes, drinks and food products that set Brooklyn apart.
The Alice Cocktail at Alice's Arbor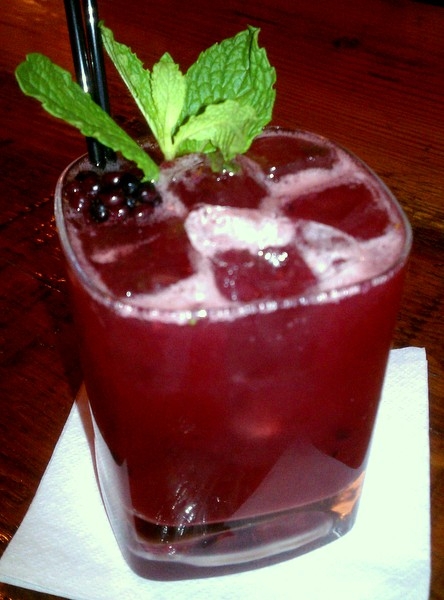 Located on the cusp of Bed-Stuy and Clinton Hill sits Alice's Arbor - an interesting bar/restaurant with an even more interesting clientele (interesting in a good way). Opened last May, patrons walk into an open space with a long wooden bar – to its left a large rustic-style dining space and, to the right, a corner styled into a gourmet goods store with shelves lined with enticing goodies: Empire Mayonnaise, coffee, crackers, pastas, spices and more. The deli-style counter is lined with cheeses, meats, breads and salads – perfect for an evening of entertaining.
Open for breakfast, lunch and dinner, Alice's serves "authentic, seasonal, full-flavored American dishes with an emphasis on farm-to-table fare." Breakfast and lunch options include staple egg dishes and a variety of sandwiches and dinner entrees, including options like Hanger Steak, Wood-Oven Roasted Chicken and Edenbrook Farm Trout.
However, the day I visited, it wasn't for their mouth-watering entrees. Instead, I sampled "The Alice" cocktail. After my choice received the friendly bartender's stamp-of-approval, she went to work mixing a blend of Johnny Drum Bourbon, Amaro CioCiaro, Crème de Mure, lemon, mint and blueberries. After one sip, this perfectly blended cocktail lends itself to a refreshing "aah" moment as you become totally convinced you ordered the best drink on the menu. While most drinks leave you wishing the bartender would go light on the ice, this is one drink you can appreciate the ice – the bourbon is definitely present. While not a drink for those who cannot hold their liquor, we suggest snacking on their delish Cowboy Fries while sipping this very tasty and fruity, but strong in all the right ways cocktail.
Alice's Arbor, 549 Classon Avenue, Bed-Stuy