COLUMN:
The Nosh
The Nosh is our curated column of dishes, drinks and food products that set Brooklyn apart.
Vegan Pizza at Vinnie's in Williamsburg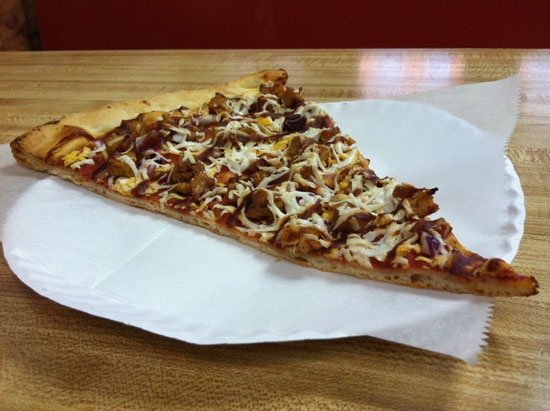 (Photo: Tanya Silverman)
Vinnie's Pizzeria in Williamsburg certainly has the exterior appearance of your typical local pizza place. Inside, you can hang out in one of the red booths and study the kitschy decorations while they bake up your order. But, apart from a welcoming atmosphere filled with colorful illustrations, prints and stickers, the main allure of this easily-accessible eatery is their numerous options for meat-eaters, vegetarians and vegans alike. While most pizza places are not typically vegan-oriented or vegan-friendly, the folks at Vinnie's recognized the preponderance of animal-free diners in Brooklyn. So, in order to appeal to a wide variety of customers, the pizza chefs have come up with a creative assortment of vegan pizza options, often replacing dairy cheese with soy or tapioca.
Whether you're a die-hard animal-rights activist or a hungry Bedford Avenue stroller wanting to try something new, one way to break into the vegan pizza experience at Vinnie's is to try their Vegan BBQ Chicken slice ($4). Beginning with a thin-crust, triangular pizza template, they've added diced red onion, mock chicken, barbecue sauce and soy cheese. When you bite into this unusual concoction, your senses will be stimulated by an eclectic taste and texture combination. This New York style vegan pizza is crispy on the bottom, soft in the middle, tangy on top and chewy thanks to the bits of mock chicken. Though quite satisfyingly put together, you can also top it off with some healthy nutritional yeast or spicy hot sauce.
Vinnie's is located at 148 Bedford Avenue between 8th and 9th Streets.