COLUMN:
The Nosh
The Nosh is our curated column of dishes, drinks and food products that set Brooklyn apart.
Italian Pulled Pork Sandwich from Frank and Eddie's Butcher Bar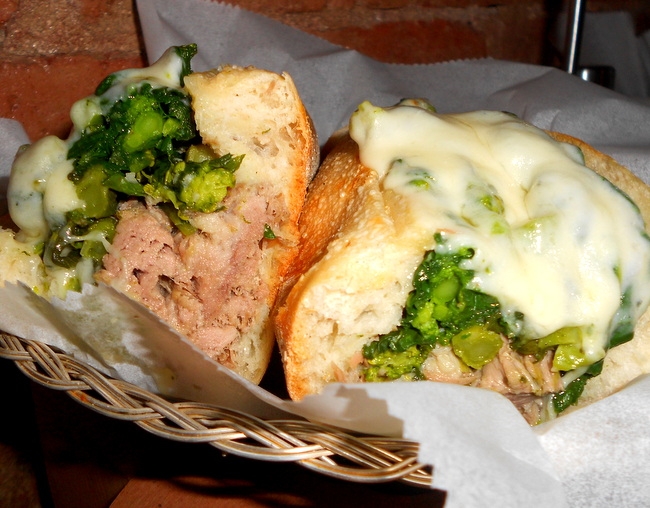 (Photo: Mary Luisi)
Brooklynites have had their share of pulled pork sandwiches of late, but Frank and Eddie's Butcher Bar in Bay Ridge (276 Bay Ridge Parkway) serves an Italian Pulled Pork sandwich that is old school delicious. It is a small feast - flavorful, balanced, and robust - able to feed one Italian or two hungry hipsters.
The succulent pork, super-slow roasted with an abundance of garlic and herbs, is first layered with tender red-pepper-flaked broccoli rabe. It is then topped with sharp provolone, melted into a creamy, oozing blanket of perfection - all atop a stellar Bensonhurst-sourced Italian roll that is crisp and toothsome. If you can find room, the light and crisp ale-battered onion rings with horseradish-mayo are a nice accompaniment.
This "familia" labor of love is the vision of Brooklyn born and bred Dennis Mannarino, who charismatically multi-tasks as butcher, chef, and owner. Dennis is the son of beloved and now retired Frank Mannarino, who along with Uncle Eddie opened the adjoining butcher shop fifty years ago. The Butcher Bar is enjoying a soft opening while awaiting its liquor license (beer and wine only), offering well-priced and sophisticated sandwiches, expertly sliced. And yes, there are vegetarian options too! The intimate space is warm and comfortable with hospitable service to match. Its exposed brick walls, blackboard menu, and butcher block table tops subtly keep the theme.
So head south and visit bucolic Bay Ridge. Bring your appetite and heed Mama's sage advice, "Always flirt with the butcher!"