Brooklyn Brewery Announces Songwriting Contest Winners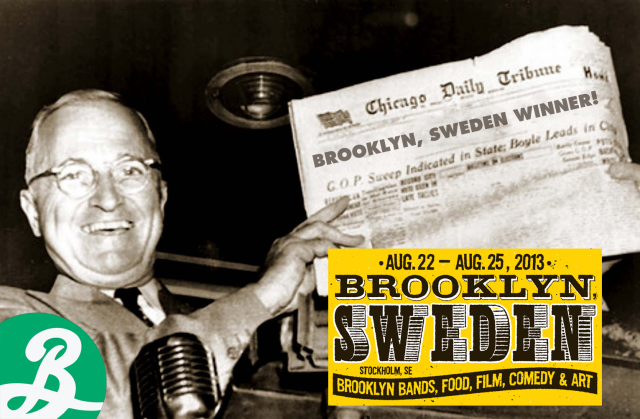 (Photo: Brooklyn Brewery)
On August 9th, 2013, The Brooklyn Brewery announced winners of the BROOKLYN, SWEDEN amateur songwriting contest. Brooklynites Noni Culotta and Massimo Sammi were awarded a trip to Sweden, for their original song "Coney Island Boy" and its music video. The victorious cast and crew celebrated over Brooklyn Brewery beers.
The songwriting prize covers airfare, hotel and passes for the second annual BROOKLYN, SWEDEN. This three-day festival will begin August 22nd, 2013 in Stockholm, Sweden. The lineup, currently in development, will feature Brooklyn music, food, art and film.
"Last year we rocked Scandinavia with a killer lineup of Brooklyn bands at Debaser," revealed the Brooklyn Brewery blog, the Brooklyn Bloggery. "For our second go around we've decided to diversify the diversions and bring Stockholm a mashed up marquis of Brooklyn bands, food, film and art."
The Brooklyn Bloggery updates will continue providing festival lineup and ticket information.
"I have never been to Sweden," commented Noni Culotta. "I'm really looking forward to learning about Stockholm, hearing the music at the festival and tasting the food!"
According to the Brooklyn Bloggery, songwriting contestants "slaved away at crafting a tune and adjoining music video that captures their idea of Brooklyn's beloved . . . Coney Island."
Contest winner Noni Culotta first composed "Coney Island Boy" upon discovering the BROOKLYN, SWEDEN amateur songwriting contest, initially through a Facebook wall post.
Her friend wrote, "Hey Noni - let's go to Sweden!" and included a link about the contest. Culotta sat down with her guitar and wrote the song. Then she replied, "Let's go!" and alerted contest co-winner, Massimo Sammi.
The two contest winners originally connected through New York University. Noni Culotta graduated from Tisch in May 2013. Graduate student Massimo Sammi studies Film Scoring at Steinhardt.
"Massimo did what he always does," Culotta explained regarding their partnership for the "Coney Island Boy" song and music video project.
Culotta handed Sammi the song she wrote, recorded into her iPhone, and described her vision for the music video as "Somewhere Over the Rainbow" meets Coney Island.
With this direction in mind, Sammi turned around an arrangement of drums, pipe organ, steel guitar, ukulele, piano and strings. Sammi incorporated varied time signatures and added in a waltz on the chorus. The effect evoked the languorous image of a merry-go-round and a daydream, as Culotta envisioned.
A team of six collaborators then created the "Coney Island Boy" music video. "We shot the whole video from 10 A.M. to 4 P.M. on a Saturday," remembered Culotta. "So that two of us could make it back into the city by 5 P.M. for our restaurant jobs."
Through this process, the six associates established a long-term working relationship. The "Coney Island Boy" filmmaking experience inspired future projects, including plans underway for a next music video. Winning the contest also promoted Culotta's presence on YouTube.
In fact, social media campaigning secured the necessary votes toward victory. On the final day of the BROOKLYN, SWEDEN contest, "Coney Island Boy" ranked in third place. The morning before the deadline, the video had earned 223 votes. By the midnight cutoff, the video had obtained 584 votes.
Due to a music history exam scheduled for the same week, Sammi will not attend BROOKLYN, SWEDEN. Instead, Culotta will travel with her "Coney Island Boy" music video co-star, John Sillings.
"We are set to receive an all-expenses paid trip for two to the BROOKLYN, SWEDEN festival in Stockholm," said Culotta.