Baby Walrus Gives New Hope to New York Aquarium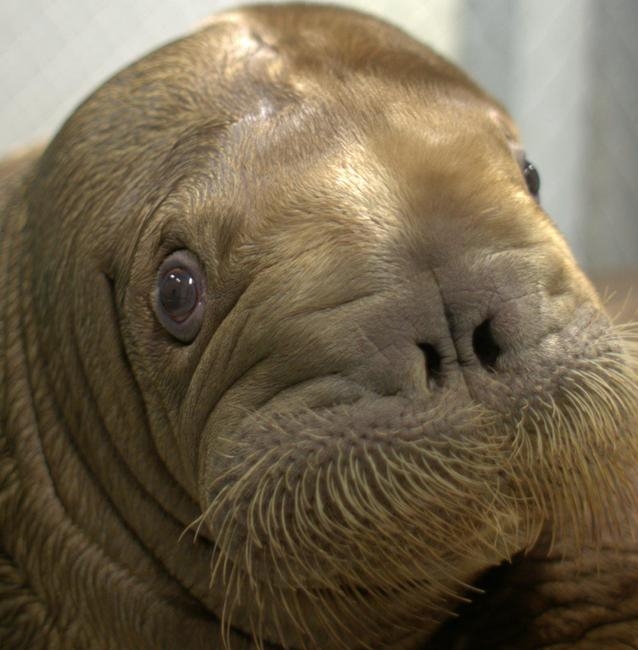 A new walrus mascot, shaking fins at the Brooklyn Public Library, encourages youngsters to read and keeps up momentum during the New York Aquarium's post-Sandy transformation.
The Brooklyn Public Library and the New York Aquarium joined together to present Sea Life Story Time, a series of events that engage children in literacy and science. The program, hosted at various library branches, continues on selected dates from August 13th, 2013 through August 23rd, 2013. Each session features photo opportunities with the Aquarium's new mascot: the walrus (aka staff members dressed in costumes).
Sea Life Story Time activities include walrus-themed trivia with prizes, a raffle for Aquarium tickets, and read-aloud storytelling from one of six titles selected for the event: Arctic Tale by Rebecca Baines, Beast Feast by Douglas Florian, In the Swim by Douglas Florian, My Visit to the Aquarium by Aliki, National Geographic Book of Animal Poetry by various authors, Where's Walrus? by Steven Savage, and Walruses by Louise Spilsbury (also on display).
A new walrus, one of several New York Aquarium mascots headlining Sea Life Story Time, foreshadows the public appearance of Mitik, a baby walrus who gained celebrity status back in October 2012, when New York Aquarium staff members stayed up all night to help the Alaskan rescue survive Hurricane Sandy.
"The night when the storm hit, and water overflowed all of Coney Island, we were moving around, getting oxygen to tanks as quickly as possible. We lost all power. We were here then for the next few weeks around-the-clock working to save the animals here at the Aquarium, to save the Aquarium itself," said Jon Forrest Dohlin, Wildlife Conservation Society Vice President and New York Aquarium Director, in a video on the New York Aquarium website. "It was a tremendous challenge, and we managed to work toward a point where we were able to partially reopen the Aquarium this May. But this is just the first step in a really exciting transformation in the New York Aquarium."
Now the baby walrus, just over one year old and mustached, continues being nursed to health. This process involves Aquarium staff hosing him and feeding him a milkshake (squid, vitamins, milk) until they teach him to eat fish. To ensure Mitik's safety, the Aquarium staff also "baby-proofs" the tank to avoid knobs and things Mitik could put his mouth on.
Now Mitik's survivial has become a symbol for the area's ability to weather the storm and come out cuter than ever. The enthusiasm of the community was especially evident in the 23rd annual Coney Island Sand Sculpting Contest, held August 17th, 2013, in which one sand creation prominently displayed a walrus statue in front of a structure with the text "NY Aquarium".
All of this is a testament to the way the New York Aquarium, reopen since May 2013, will be transforming while under construction for the next three years.
"Not only are we going to rebuild the rest of the Aquarium, but we are continuing with our transformative Ocean Wonders exhibit, and this will be a massive 55, 000 square foot exhibit that will feature sharks in various habitats and really discuss the challenges that these animals face, the ways that New Yorkers can change their lifestyles in meaningful but very simple ways that will help affect ocean health right here in New York City," said Dohlin.
*Sea Life Story Time Schedule:
When: Tuesday, August 13; 2:00 p.m.
Where: Cypress Hills branch, 1197 Sutter Ave. at Crystal St.
When: Thursday, August 15; 2:00 p.m.
Where: Dyker branch, 8202 13th Avenue at 82nd St.
When: Friday, August 16; 2:00 p.m.
Where: Windsor Terrace branch, 160 E. 5th St. at Fort Hamilton Pkwy
When: Tuesday, August 20; 12:30 p.m.
Where: Borough Park branch, 1265 43rd St. at 13th Ave.
When: Wednesday, August 21; 2:00 p.m.
Where: Park Slope branch, 431 6th Ave. at 9th St.
When: Thursday, August 22; 1:00 p.m.
Where: McKinley Park branch, 6802 Fort Hamilton Pkwy
When: Friday, August 23; 2:00 p.m.
Where: Kings Bay branch, 3650 Nostrand Ave. (near Ave. W)