Events
Brooklyn Soul Club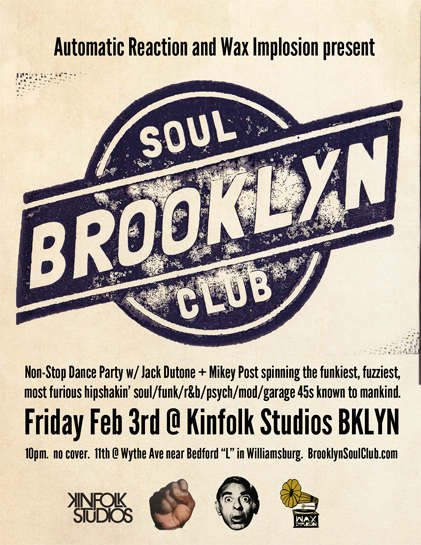 DATE: September 5, 2014
TIME: 10:00pm - 4:00am
PRICE: Free
ADDRESS: 90 Wythe Avenue at N 11th Street
Event Description:
Brooklyn Soul Club is Jack Dutone's brand new, no holds barred dance party at Kinfolk Studios in Brooklyn!
Jack Dutone has been taking the North East by storm for the last five years with his infamous dance nights, including: Cheap Thrills a Go-Go, Mambo Beat Club, Psychedelic Circus, and Discoteca Sexadelica. Now he is bringing the ruckus to Brooklyn, equipped with his deadly arsenal of 1960's era hipshakin' soul, funk, mod, psych, garage, girl group, boogaloo, and bubblegum records.
Presented by Automatic Reaction and Wax Implosion, Brooklyn Soul Club debuts Friday February 3rd at Kinfolk Studios in Williamsburg, Brooklyn. Dutone will be joined by the infamous vinyl slinging wild man, Mikey Post. Post has gained a legendary status around NYC with his furious DJ sets, and involvement with the Jay Vons, The Reigning Sound, and Daptone records.
For more info and Jack Dutone's Brooklyn Soul Club Promo Mix, visit BrooklynSoulClub.com
Kinfolk Studios is a new multi use space on the North Side of Williamsburg that houses a comfortable and inspiring atmosphere. It was designed by the same team as Kinfolk Bicycles and the Kinfolk Lounge in Tokyo. It is a refreshing addition to the neighborhood andis establishing itself as a destination for the creatives in Brooklyn.
Press inquiries please contact Caitlin Abber @ [email protected]