Food
&

Drink
6 Good Eats in Bushwick for Newcomers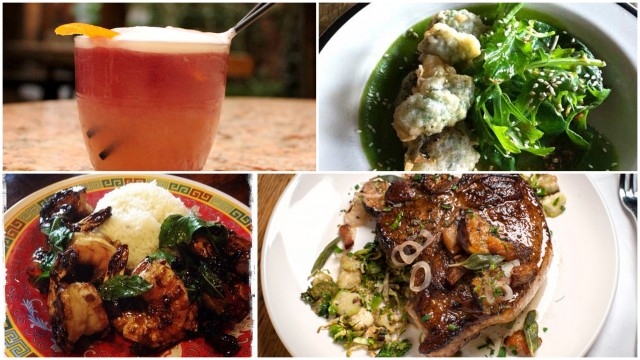 As the shifting scale of rent in New York spikes higher, more and more people are relocating to Bushwick, one of the newest neighborhoods to become gentrified in the hip Brooklyn circuit. As hopeful newcomers get adjusted to their new digs, it's normal to feel cut off from the amenities of foodie-populous areas like the Lower East Side or Wililamsburg's ample bevy of eats.
But there's plenty of delicious spots popping up all over Bushwick that will please even the pickiest eater and the most refined palette. Although tacos, sushi and other unlikely cuisines like Ethiopian and Polish abound, there's also an influx of sit-down spots and foodie haunts. There's more to eat in Bushwick than just the decadent pizza at Roberta's or their high end spin-off Blanca's—trust us.
983: Bushwick's Living Room
Must have: Drunk Oreo: an alcoholic milkshake made up of cookies and cream ice cream and a shot of El Toro tequila. ($10)
The cozy, welcoming vibes of a living room are definitely served up at 983—alternatively titled Bushwick's Living Room—and service is particularly friendly at the quaint restaurant that manages to juggle being part coffee shop, part restaurant and full-time bar. For those looking to booze, there's nothing more brilliant than the way 983 combines the sweet with the intoxicating for their Adult Milkshakes. Indulge in the Drunk Oreo full of tequila and America's favorite cookie, Grandma's Medicine features vanilla, caramel and bourbon, or Chocolate Treat that mixes irish cream, Kahlua and whiskey with chocolate ice cream. These are each $10 and rival the rest of the menu's cheerful creativity—elements like breakfast all day, several variations on a juicy burger and chicken wings make this spot a classy, casual hit. The menu is lowbrow stock favorites done with an eye toward highbrow tastes, and the combination will make 983 feel like home for neighborhood newcomers in no time. 983 Flushing Avenue
Northeast Kingdom
Must have: Autumn's Harvest Farm Short Rib Chili: served with cheddar bisquit and sour cream. ($14)
For those delighted by the latest farm-to-table trends, Northeast Kingdom and their emphasis on foraging will feel like a great find. The place has been an establishment in Bushwick since 2005, but continues to earn accolades for their personal farming and unyielding stress on seasonal menus. Their website offers updates on how to forage and garden on your own, and their menu offers flavors powerful enough to spur you into action. Understandably, the menus are constantly rotating as the seasons change, but some favorites from their current selection include Salted Baked Beets with parsley cream ($10) and Seared Local Scallops with Cipollini onion, crab apple, bacon and hazelnuts ($25). Brunch is a treat here too, currently boasting peculiarities like Short Rib Chili and Crispy Pork Confit alongside a more standard French Toast Benedict . Cocktails boast similar freshly farmed flourishes like the Hibiscus-Ginger syrup found in the rum-based Sorrell ($10) or fresh pear juice in the Pear Margarita. In short, the brainchild of owners Paris Smeraldo and Meg Lipke and chef Kevin Adey has made the acronym NEK mean something special in Bushwick for the past eight years. Neighborhood transplants will quickly develop their own affinity for the resolute passion with which this spot approaches food. 18 Wyckoff Avenue
Dear Bushwick
Must have: Homemade Country Cheese Curds: served with roasted winter squash, pickled mustard seeds and toast. ($11)
Self-described as "an English country kitchen," Dear Bushwick's location right off the popular mini-neighborhood of Morgantown off the Morgan L is a far cry from the British countryside. Still, the menu manages to grasp onto straws of the past and deliver them with piping hot modern twists. There's the plain weird appetizers like Eggs & Butter—a concoction of smoked eggs, horseradish butter and green peppercorn salt—that somehow piques enough interest and flavors to become a staple starter, or the Fried Potato Peels, a variant on chips that are prepared with sea salt and vinegar in English style. The menu circulates seasonally, but dishes aimed toward sharing like Homemade Country Cheese Curds ($11) or a side of Seared Gem Lettuce Hearts will surprise with flairs like the curd's pickled mustard seed accompaniment. Chef Jessica Wilson also pulls through on favorites like the Iron Skillet Pork Chop, served with a bacon-shallot vinaigrette that makes a reliable main into something extravagant. Brunch sees items like porridge, cottage cheese and black pudding pop up—but careful, these are hit or miss depending on the palette. The bread, jam & butter section is a good rule of thumb for light morning fare: Sticky Ginger Bread with sea salt buter is a quick munch and only $4, as is the Cheddar Beer Biscuit served with jam. Sparse, countrified elegance makes Dear Bushwick a reliable haunt at all hours, and their cocktail list bristles with heavy-poured favorites like Pimm's Cup. The swiftly changing menu ensures that any experience here be charmed with originality while the quality never slackens. 41 Wilson Avenue
Mominette
Must have: Traditionally prepared escargot: baked with butter, herbs and garlic, seved out of their shells with country bread. ($6)
No neighborhood is completely on it's way to full-blow bougie without a French bistro, and luckily, Mominette has got Bushwick covered. The restaurant strives to keep its customers in mind though, with classic appetizers like Escargot ($6) and French Onion Soup ($7) respectively. Moules Frites are a mere $12 for mussel lovers who need a quick bite, and vegetarians will be impressed with Vegan Quinoa or the Mominette Garden Burger that's concocted from chickpeas, black beans and sundried tomato. For the meat lover the options are equally ample—Duck Confit with wilted spinach, Beef Bourguignon or Coq au Vin—and each of these carnivorous mains come in just under $20. For an elegant meal that doesn't break the bank, Mominette's quaint atmosphere is perfect. If you're looking for something other than dinner, they also have an excellent, quirky cocktail list and a highly-rated brunch. If it's good weather, the outdoor garden is almost as raved about as their weekly event "Jazz and Absinthe Tuesdays." Further proof that they know their customer? The restaurant's Tumblr is kept up-to-date on menu changes and special events. Regardless of their social media expertise though, Mominette is always cash only—so bring plenty of paper instead of plastic. 221 Knickerbocker Avenue
Fritzl's Lunch Box
Must have: Baby Kale & Barley: served with pomegranate, carrot, radish, hard boiled egg, green goddess avocado dressing. ($9)
After Williamsburg's Bellwether closed down a few years ago, former chef Dan Ross-Leutwyler (also formerly of Roberta's and Fatty Cue) ventured further into Brooklyn's fray to try again. The result was Fritzl's Lunch Box, a crisp, clean cafeteria-styled eatery that boasts a menu far superior to any school lunch in history. Take the pickled peppers and tomato jam on the house Grilled Cheese for example, or the Salt Cod & Egg Salad sandwich that's more reminiscent of an off-the-wall creation from Saltie than a brown bag lunch. Their house drinks focus more on sodas like Mexican coke and signature Brown Sugar Limeade ($3) than complex cocktails, but a few mixed drinks along with plenty of wine and beer are still available. For the adventurous eater, there's Blood Sausage Beignets to snack on, and the more conservative eater can stick with the luscious Radicchio & Pear or Baby Kale & Barley salads at a cool $9. There's also brunch on weekends and a selection of pasta and lamb stew—just don't come on Tuesday as that's their day off. 173 Irving Avenue
Bun-Ker
Must have: Crab Spring Roll: made with carrot and glass noddle. ($9.5)
Finally, a Vietnamese spot so delectable that it'll make you ditch out on the fancy nouveau offerings and fall head-over-heels. Bun-Ker is a little place way out on the border of Ridgewood whose specialty is Bahn-Mi and Pho. There's really no way to go wrong here, between the Crab Spring Rolls that go heavy on the fresh seafood, sides of sautéed Baby Bok with dried shrimp and garlic ($8) or the unlikely stellar dessert combination of Coconut Tapioca Pudding ($5). The space is far from sophisticated, with checkered table clothes and mini army soldiers standing guard at some junctures, but the laid-back feel can be a nice break from the pristine and prim vibes of more serious venues. There's nothing as serious as the cuisine here though, the Vegetarian roasted Portobello Bahn Mi wins as many mouths over as does the Crispy Flounder with dill and scallion. A dip into the main courses yield heartier results—seared angus beef cubes with peanuts in the Bo Luc Lac or Grilled Eggplant and Zucchini are similarly filling. 46-63 Metropolitan Avenue
(Photo credits: timeout.com, greenpointers.com, yelp.com, bushwickdaily.com)
Thanks for visiting our site. We appreciate hearing from you, so if you see or hear something exciting, send us a or leave a comment.