Food
&

Drink
9 Brunch Places That Hit The "Spot"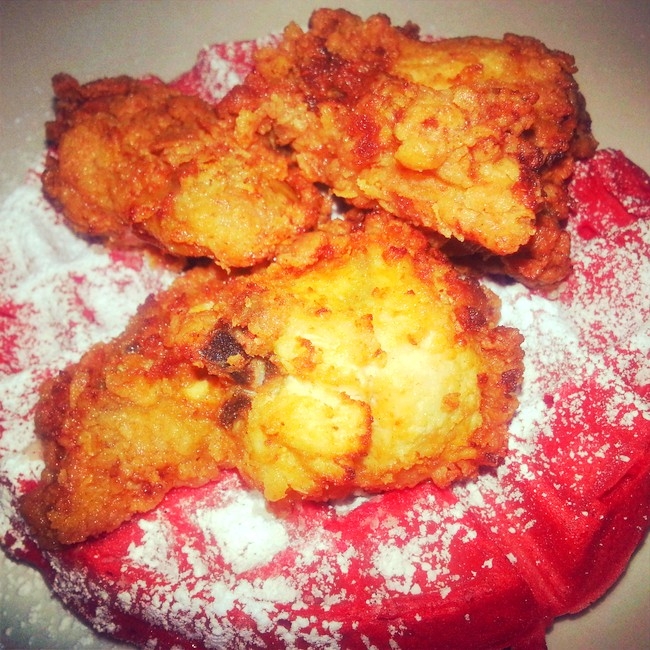 (Photo: Soco's red velvet waffles and fried chicken)
Brunch is the key to a balanced diet. At least we think it is. So expand your resolution to spend more time with friends and family to also include more amazing brunches with said family and friends. Below's our roundup of ten spots definitely worthy of visiting for brunch..
Soco
Taking design inspiration from the Brooklyn Bridge, Soco's steel interior ensures that your surroundings are as beautiful as the food you'll be eating. Started by famed restaurateurs Peter Best, Malissa Brown, and Sim Walker, Soco brings you southern fusion with a twist to Brooklyn. Wondering what to get when you're here? Three words: Red velvet waffles. These come with the most delicious fried chicken you have ever had. 509 Myrtle Avenue, Clinton Hill
Piquant
Not sure whether you like Latin food or southwestern food more? At Piquant you won't have to choose. Prix fixe brunch is only $15. Their brunch menu offers up delectables like Eggs San Salvador and Smoked Salmon Blackstone. Not really a fan of breakfast? Love burgers? You'll probably really enjoy the Piquant burger, which is absolutely delicious topped with guacamole, pastrami, and Chihuahua cheese. If you're one of those people who doesn't think its brunch unless it's bottomless, then visit to enjoy your choice of mimosas, bloody marys, or sangrias for two hours and only an additional $10. If you happen to stop by when it's warmer out, enjoy your meal in their outdoor garden. 259 Flatbush Avenue, Park Slope

Scottaditto
This brunch spot is perfect for anyone trying to reduce his or her carbon footprint. Scottaditto serves up organic Italian food with a focus on sourcing the most sustainably grown and harvested ingredients. Even the interior and furniture have been crafted from reclaimed and recycled wood. Thankfully in this instance organic doesn't mean expensive. Even after adding unlimited champagne and mimosas your meal comes out to $19.95. Bring the kids because this brunch is is family friendly and offers a children's brunch for $10. We recommend trying the Uova al Salmone, eggs with smoked salmon. 788A Union Street, Park Slope

Elberta Restaurant
This quaint restaurant on Flatbush Avenue is reminiscent of a Prohibition-era speakeasy. The waiters even play their part by wearing fedoras. Elberta is a New American restaurant that serves up a mix of southern favorites. In case you hadn't noticed there's something about Southern Fried Chicken & Waffles that we can't get enough of! Not as obsessed as we are? Try the shrimp & grits instead. 335 Flatbush Ave, Prospect Heights

The Spot
Come here and stay for a while. There's something about the Spot's vibe that makes it feel a bit like home. The playlist made us want to dance in our seats while we sipped mimosas. Reasonably priced restaurant offers a number of options ranging from regular lunch options to your typical breakfast offerings. Brunch is served until 4pm but come early to snag your spot. The wait time can get a bit long, especially since its way more fun just to stay. 417 Prospect Place, Prospect Heights
Cousin John's
If you find yourself in Park Slope on a Sunday morning, you should definitely plan to stop by Cousin John's. Ever heard of chocolate bread? Cousin John serves it up with any item on its brunch menu. Brunch is served from 10am to 3pm every Sunday. Every item is reasonably priced and since it's also a bakery, plan to take home post-brunch dessert. 70 Seventh Avenue, Park Slope

Le Gamin
This French eatery boasts a beautiful turquoise exterior in addition to a breakfast favorite missing from most menus, crepes! This café is known for its casual French ambiance, good fresh food, and signature crepes. Le Gamin serves the finest French comfort food made from real local ingredients. 108 Franklin Street, Greenpoint

Rosewater
Rosewater is committed to working with local, regional, organic, and sustainably raised foods. Opened by owner John Tucker in 2000, there is a focus on fresh ingredients which means that the menu changes regularly. Weekend brunch runs from 9:30am to 3:30 pm, reservations are not needed for brunch. Sandwiches are served with pimento spiced fries, and the challah French toast was delicious. Brunch is prix fixe only $15. Once warmer weather arrives be sure to check out their patio. 787 Union Street, Park Slope

Chavela's
If you're a fan of Mexican food you cannot miss this brunch. Chavela's brunch runs from 11am to 3:30pm. Any item on the prix fixe brunch menu is only $12.95. Brunch includes Mexican sweet bread. This brunch boasts favorites like Chilaquiles, the Chavela's omelette, and breakfast enchiladas.
736 Franklin Avenue, Crown Heights
Thanks for visiting our site. We appreciate hearing from you, so if you see or hear something exciting, send us a or leave a comment.