Food
&

Drink
5 Brooklyn Food Trends to Try in 2014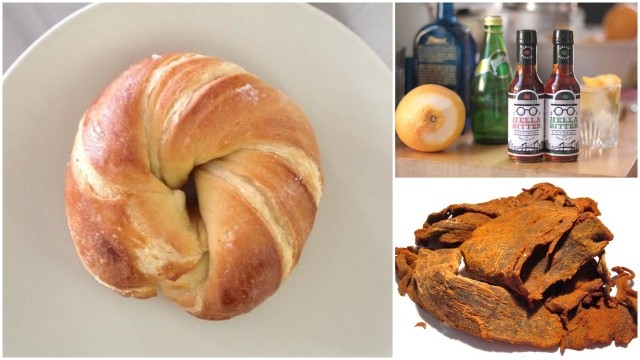 Food is trendy. Different flavors, textures, and ingredients go in and out of style just like your favorite that sweater you sold and re-bought at Beacon's closet last month. Check out some of 2014's emerging food trends, which are prevalent even in alternative Brooklyn
The Cragel
While Cronut lines still seem to withstand blizzards and extreme cold, the cronut's popularity has given way to all sorts of new mash-up foods (remember Smorgasburg's Ramen Burger?) 50% bagel and 50% croissant, The Bagel Store (349 Bedford Avenue) in Williamsburg bakes this fresh, fluffy creations daily, and Gothamist reporter Lauren Evans claims, "These are delicious. In a Cronut v. Cragel smackdown these should hands-down win."
Savory Desserts
Yes, prepare to be tricked: savory desserts are making their way onto menus and at dinner parties, and it's not long before you encounter some New York Style kale cheesecake. Park Slope's Sky Ice (63 Fifth Avenue) serves ice cream flavors including black sesame seaweed and miso almond and Williamsburg's Oddfellows (175 Kent Avenue) uses ingredients like chorizo, coffee soil, pumpernickle, and tomato in their ice cream.
Jerky
It's everywhere, from bar snacks to swag bags, it's hard to avoid smoked and wrapped meat products The once gas station snack is now being toted as a health food (it fits the paleo diet! it's gluten free! it can be grass-fed and/or organic!) and made from everything from beef to bison to beets. Local company Slantshack Jerky's recognizable brown bags are sold at 30 Brooklyn retailers, including bars like Brooklyn Brewery and Mugs Alehouse. BAM's Beef Jerky is made in Brooklyn and sold online as well as at Toby's Public House (686 Sixth Avenue, Park Slope). King's County Jerky can be found at Smorgasburg and Brooklyn Flea, and Epic Bars made from ingredients like turkey and lamb are sold at health locations like Brooklyn Boulders (275 Degraw Street, Gowanus) and Back to The Land (142 Seventh Avenue, Park Slope). Expect many more local jerky and smoked foods producers to come.
A grain revival!
Wheat is out, ancient grains are in. Quinoa has been on menus for a few years, but not usually as a main dish.That and other healthy, protein and vitamin-filled grains are popping up all over! Atrium Dumbo (15 Maint Street) serves a fantastic quinoa tagliatelle with cauliflower and Hunter's Brooklyn (231 Smith Street, Cobble Hill) makes a rich farro risotto. Brooklyn Porridge Company (741 Union Street, Park Slope) serves steaming bowls of amaranth and Four and Twenty Blackbirds (439 3rd Avenue, Gowanus) is using oats in their pies! On a note with grains, expect many restaurants to start charging for their bread basket, as Parish Hall has been doing for years.
Additional prediction: Quinoa will be a popular baby name this year.
Micro distilleries (and artisinal cocktails)
Edible Brooklyn's most recent issue profiled dozens of local makers who quit their day jobs as financiers and sacrificed paychecks to follow their dreams of distilling. Moonshine, local whiskeys, homemade syrups, Brooklyn-based bitters, and many more local producers are bringing small batch cocktail creations to Brooklyn bars and events.
Expect to enjoy all of these foods at reservation only, pop-up dinner clubs, like The Sauce, Blanca, Mayanaki, The Chef's Table, and many more, which have all grown in popularity in the past months!
Thanks for visiting our site. We appreciate hearing from you, so if you see or hear something exciting, send us a or leave a comment.