Nightlife
&

Music
Least Expected Dance Parties in Brooklyn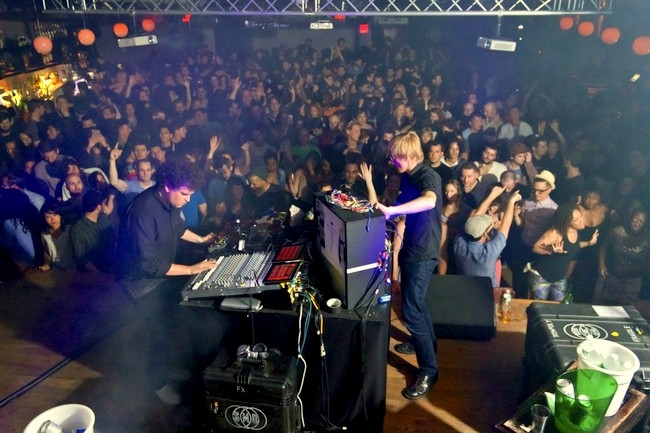 (Photo: SRB, weallwantsomeone.org)
Manhattan is known as the city that never sleeps, but until recently, Brooklyn couldn't keep up with its glittering island-bound counterpart. But as Brookly gets stuffed to the gills with twenty-somethings trying to make it, the ready-to-party club is increasingly spilling into neighborhoods like Williamsburg, Bushwick and Greenpoint. With the majority of the action still centered in Williamsburg, here's some places that have been cropping up where you might be surprised to find a great dance party any night of the week.
Baby's All Right
Baby's All Right is the brainchild of several bar and club owners, managers and bookers, so the fact that Baby's All Right has become one of the hippest bar, restaurant and concert/event locations within the sapce of a few months is no real surprise. Still, the fact that Baby's is fully-functioning on multiple facets and in three distinct rooms is a testament to the savvy of its owners—like Billy Jones, formerly of Pianos. Like that bustling LES club, Baby's All Right turns into a great spot for getting down on the dance floor until the wee hours of the morning—and it's proximity to the JMZ at Marcy makes it perfect for the bars numerous Bushwick denizens. 146 Broadway, Williamsburg
Bossa Nova Civic Club
Some would argue that Bossa Nova started the trend of dance clubs in Brooklyn, and though there might be others who came before, the presence of the Bushwick club quickly grew in esteem for locals and tourists alike. Boasting a drink menu that includes juices like Cucumber, Verdita and Pineapple, this club is serious about providing a good location for dancers and electronic music afficionados. Don't worry though, there's cocktails and big comfy booths too for for those who are less dance-prone. 1271 Myrtle Avenue, Bushwick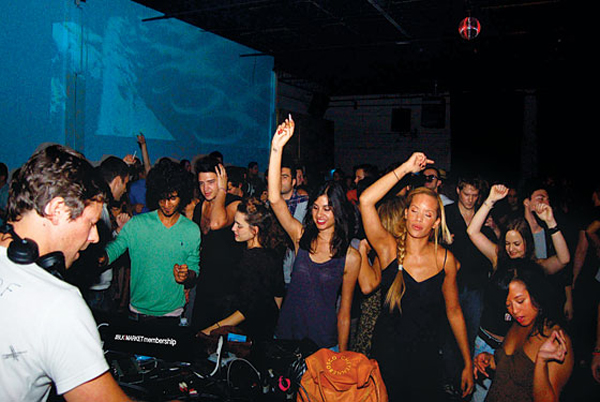 (Photo: Output, societeperrier.com)
Output
For all the things that Williamsburg did boast, it seemed that the club scene from Manhattan was mostly staying on the island—or constantly on the move in traveling warehouse parties like Rinsed that took place deeper into Brooklyn. That is, until Output opened in Williamsburg and became a prime location for all-night-dancing. And their Thursday night INPUT parties definitely kick off the weekend on a great note. 74 Wythe Avenue, Williamsburg
Tandem
During the day Tandem is one of Bushwick's most reliable brunch spots, featuring Bloody Marys with house pickled vegetables and some tantalizing chilaquiles. Once the darkness settles though, the ample back rooms of the club open and turns dimly-lit, stone corridor from the front restaurant into part of the party. Venture out on Thursday through Saturday for all-night parties with specific themes, like the upcoming Tiki Disco dance night on February 28. 236 Troutman Street, Bushwick
Bizarre
This Francophile club opened by Jean-Stephane Sauvaire and Greg Baubeau has elegant, choice cocktails, and the kind of woodsy decor that beckons legions of Brooklyn youngsters. But the real party starts when things get a little later and everything from Burlesque to costume parties, to standard DJ nights. The best part about Bizarre is that the front room is huge—even with the tables on one side—so crowds are easily encouraged to get their groove on when the music starts. An added bonus is the constant presence of old muted movies playing on a large exposed brick wall. Visual stimuli, bartenders that don't skimp on their pours and an ever evolving cast of characters, music and moods makes Bizarre a great place to pulse the night away. 12 Jefferson Street, Bushwick
SRB
SRB stands for soul, rhythm and blues, but those genres rarely appear on the guest list for this eclectic club. Sure, there's indie rock and jazz nights, but the DJs who specialize in deep house and hip-hop inevitably steal the show. Although it's a bit off the beaten track, the newly re-opened Smith and 9th Street Subway stop makes SRB easy access from the F or G. 177 Second Avenue, Gowanus
Beloved
At first glance, it seems counter-intuitive that Beloved is the center of a blossoming club scene in Greenpoint. The menus of hand-crafted cocktails means business, and the lush, vintage wood interior seems to channel serenity and a sense of calm. But throw a DJ in the back room and it seems like the patrons just pour out of their apartments and into the bar. Good luck even making your way through the crowd to the back room on Friday and Saturday nights. But if you do, you might catch a guest DJ set by one of Brooklyn's local hometown superstars like Dapwell formerly of Das Racist or members of psychedlic pop groups like Yeasayer or Chairlift. It's the dance spot that boasts cockails tantalizing enough to score celebrity guest DJs. Don't tell too many of your friends though, because if Beloved gets any more popular you really won't be able to get a foot in the door on weekends. 674 Manhattan Avenue, Greenpoint
Over the Eight
The prime location of Union Avenue and Richardson Street has re-opened since the closing of Royal Oak. The 2,000+ square feet are now dubbed Over the Eight, and the new space is developing into a prime place for DJ nights, events, readings, screenings and more. It's still most popular as a dance location though, bringing in an 84-inch projector screen to turn the back room into a haven for Williamsburg late night scenesters. During Saturday and Sunday the club offers a great brunch menu banced on classic New York items, and bar food is plentiful and thoughtful small bites and sandwiches. On Thursday, Friday and Saturday nights DJs are booked by the club, but other nights the back room is also available for private parties. 594 Union Avenue, Williamsburg
Thanks for visiting our site. We appreciate hearing from you, so if you see or hear something exciting, send us a or leave a comment.